St. Onuphrius Ukrainian Catholic Church – "a part of all of us" – Radomir Bilash
By Jayne L. Buryn, Communications Coordinator, Ukrainian Catholic Eparchy of Edmonton
In the midst of tremendous changes within their lives, many Ukrainians looked to their religion as … a source of meaning in the present and hope for the future. In each community, the church served not only as a worship site, but also as a meeting place for sharing the joys and hardships of daily life in a new country.
A piece of Ukrainian history was blessed and rededicated at the Canadian Museum of History on September 30, 2017.
St. Onuphrius Church was built around 1915 at Barych (Smoky Lake), Alberta, by the prolific designer and builder of countless early Ukrainian Catholic churches across Canada, Fr. Philip Ruh. The building served as a parish until 1964, after which it stood idle.
"In the mid-1990s, it was chosen by the Canadian Museum of Civilization to represent the immigrant experience of the Ukrainian-Canadian community," notes Radomir Bilash, Senior Historian at Ukrainian Cultural Heritage Village, Alberta Culture and Tourism. "And so, the empty church from the Prairies began a new life, serving those who visited the Museum and worship there," wrote Mr. Bilash in a 2012 article for Pokrova Children's Ukrainian Arts Camp.
The structure was dismantled and shipped to the museum in Gatineau, Quebec, where it was reassembled and "re-sanctified at a special formal ceremony in 1996…."
Restored to its 1952 form, the church was relocated to its current interior location when the Museum of Civilization was revamped into the Canadian Museum of History. It stands in the Canada Hall of the Museum with all its "ritual objects, décor and furnishings," according to the Museum's website. It "pays tribute to the major role that Ukrainians played in developing this country."
On September 30, 2017, St. Onuphrius was blessed and rededicated as a part of the celebrations of the 125 years of Ukrainian settlement in Canada and 150 years of Canadian Confederation.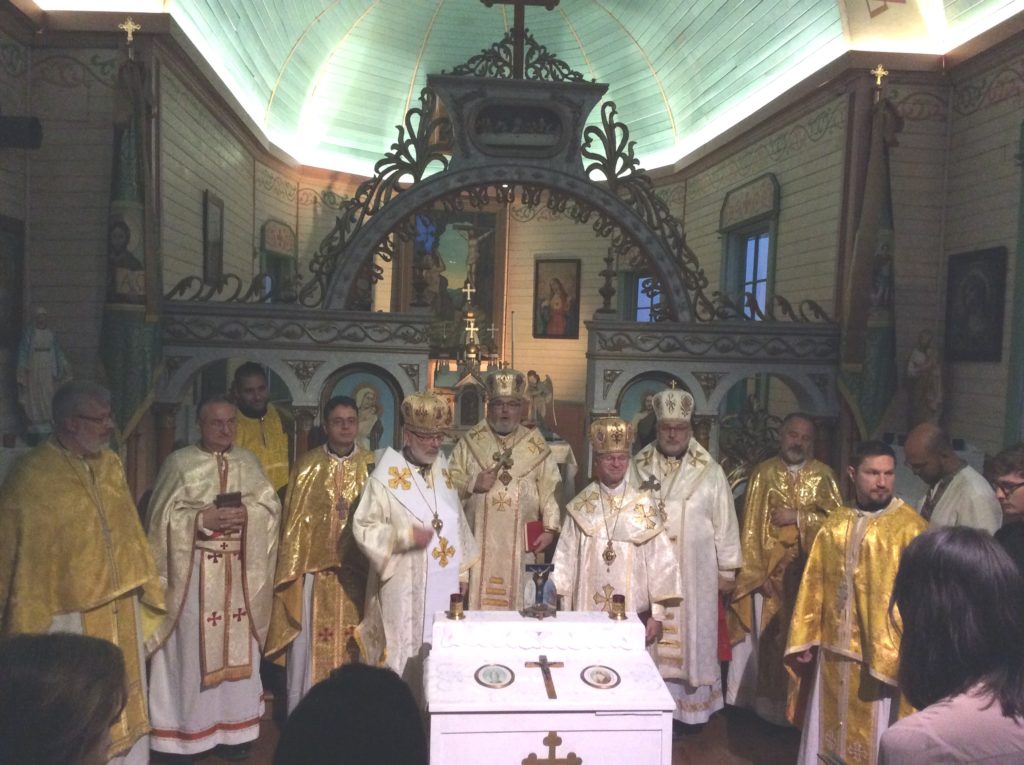 The main concelebrants of the blessing and rededication Divine Liturgy were Metropolitan Lawrence Huculak, Ukrainian Catholic Archeparchy of Winnipeg; and Bishops David Motiuk, Ken Nowakowski, and Bryan Bayda from the Ukrainian Catholic eparchies of Edmonton, New Westminster and Saskatoon respectively.
As Mr. Bilash told the Pokrova Camp children, the church "is a bridge between those early settlers who gave it life and their great-grandchildren who come to it now. It is a part of all of us."   
For an interior view of the church presented in a video, visit the Museum website at (http://www.historymuseum.ca/cmc/exhibitions/hist/phase2/mod6e.shtml).