Christ Our Pascha: Catechism of the Ukrainian Catholic Church
Theophany
197 At the baptism of Jesus Christ in the Jordan, the public ministry of the Saviour begins (see Mt 3; Mk 1). John the Baptist points to Christ in the Jordan and identifies Him as the "Lamb of God who takes away the sin of the world" ( Jn 1:29). During the baptism of Jesus, the Most Holy Trinity is made known: "Worship of the Trinity was revealed; the voice of the Father bore witness to You, naming you the beloved Son, and the Spirit in the form of a dove confirmed the word's certainty."167 "The voice of the Father" is the voice of the Heavenly Father, and the "Spirit in the form of a dove" is the Holy Spirit, who descends upon Christ, revealing him to be the Son of God. For this reason, Church tradition refers to the Baptism of Jesus Christ as the Theophany (from the Greek, meaning divine appearance).

Word:
To Know God

Eucharist:
To Love God

Service:
To Serve God
From Pascha to Pascha: We are Easter People - Let Us Beam With Festive Joy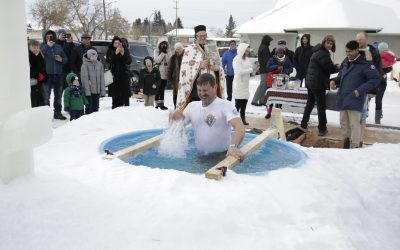 St Vladimir's in Red Deer held an Outside Water Blessing and Renewal of Baptism on Sunday Jan 19th; the weather was warmer but still cold however, we had an enthusiastic celebration, processions, Great Blessing of Water, Blessing of the Church property with Holy...