Red Deer, Alberta – In a world where the demands of daily life often challenge one's faith, a new publication is set to illuminate the path of devotion for Ukrainian Catholic men. "Men of Worship" magazine created by the Knights of Columbus at St. Vladimir Ukrainian Catholic Parish, aims to inspire and empower Catholic men to live their faith in every aspect of their lives. This publication is not just a magazine but a mission, designed to guide men towards becoming the best possible fathers, husbands, and leaders in their communities and careers.
A Mission Embodied in Content
"Men of Worship" has a clear and profound mission: to empower men to live their faith at home, in their parish, at work, and within their communities. Every article, feature, and page of the magazine reflects this mission, offering inspiration and guidance to men of all ages and stages of life.
Magazine creator and St. Vladimir parishioner, Ben Windsor, underscores the magazine's core objective:
"This magazine aims to inspire men to become faith leaders in their parish, at home, in their communities, and at their workplace. The content is specifically written to motivate service in these four key areas."
A Dual Launch: Online and in Print
On October 15, "Men of Worship" will make its debut, both in an online format and in a limited print edition. The magazine is available in both English and Ukrainian. For those who prefer holding a physical copy, St. Vladimir Parish in Red Deer invites you to visit on October 15 to pick up a printed edition, creating a tangible connection to the faith. Further copies will eventually be available to select parishes in Alberta. 
Reaching Beyond Red Deer
While "Men of Worship" began its journey in Red Deer, Alberta, the magazine will soon reach parishes throughout Alberta after the October 15 launch. Additionally, a digital version is available for the convenience of readers.
While the local Knights of Columbus have received requests from across the country for copies of the magazine, "Men of Worship" is exclusive to Alberta, with no plans for nationwide distribution due to budget constraints. This limited edition print will be available to different parishes in Calgary, Edmonton, Grande Prairie, and Grande Prairie district for the parishes who have signed up to distribute copies for the Knights of Columbus. Cassandra, a parishioner from Grande Praire, mentioned;
"As an artist and designer, I love the clean modern work of this. It's every bit as involved as writing a book, and often less lucrative."
Discovering the Content
In less than two months, the local Knights of Columbus have designed, wrote, translated, printed, and distributed "Men of Worship" free of charge. This endeavor is a gift to the community, fostering a sense of unity and faith.
Grand Knight, Ryan Bolin, of the Knights of Columbus shares a testament to the power brotherhood in the Knights, saying,
"The fraternal brotherhood of the Knights of Columbus has inculcated my Catholic faith and given me courage to live out my life as a Catholic gentleman."
His words echo the spirit of "Men of Worship," which seeks to empower men on their faith journey.
Within the 20 pages of "Men of Worship," readers will uncover a treasure trove of articles designed to rekindle the flames of faith, including a few articles such as:
Thanksgiving, A Celebration of the Family: An article by Bishop David, reflecting on the importance of gratitude in family life.
Tips for Praying for Grandchildren: Insights on spiritually nurturing the next generation.
Building Strong Marriages: A Christ-Centered Guide for Catholic Men: Guidance for husbands seeking to strengthen their marriages with faith at the core.
Tips and Ideas for Parents to Get Kids Ready on Time: Practical advice for parents striving to balance faith and family.
Tips for Creating a Prayer Routine: Ways to infuse daily life with moments of devotion.
Leading with Catholic Values: Business Leadership Lessons From Our Faith: Integrating faith into the workplace.
Loving Your Neighbor: A Catholic Call to Service: The essence of service and charity within the faith community.
After looking at the magazine, a St. Vladimir parishioner described the publication saying;
 "This is beautifully designed and written in a modern way. The fact that our Knights of Columbus is distributing this magazine for free is an amazing initiative!"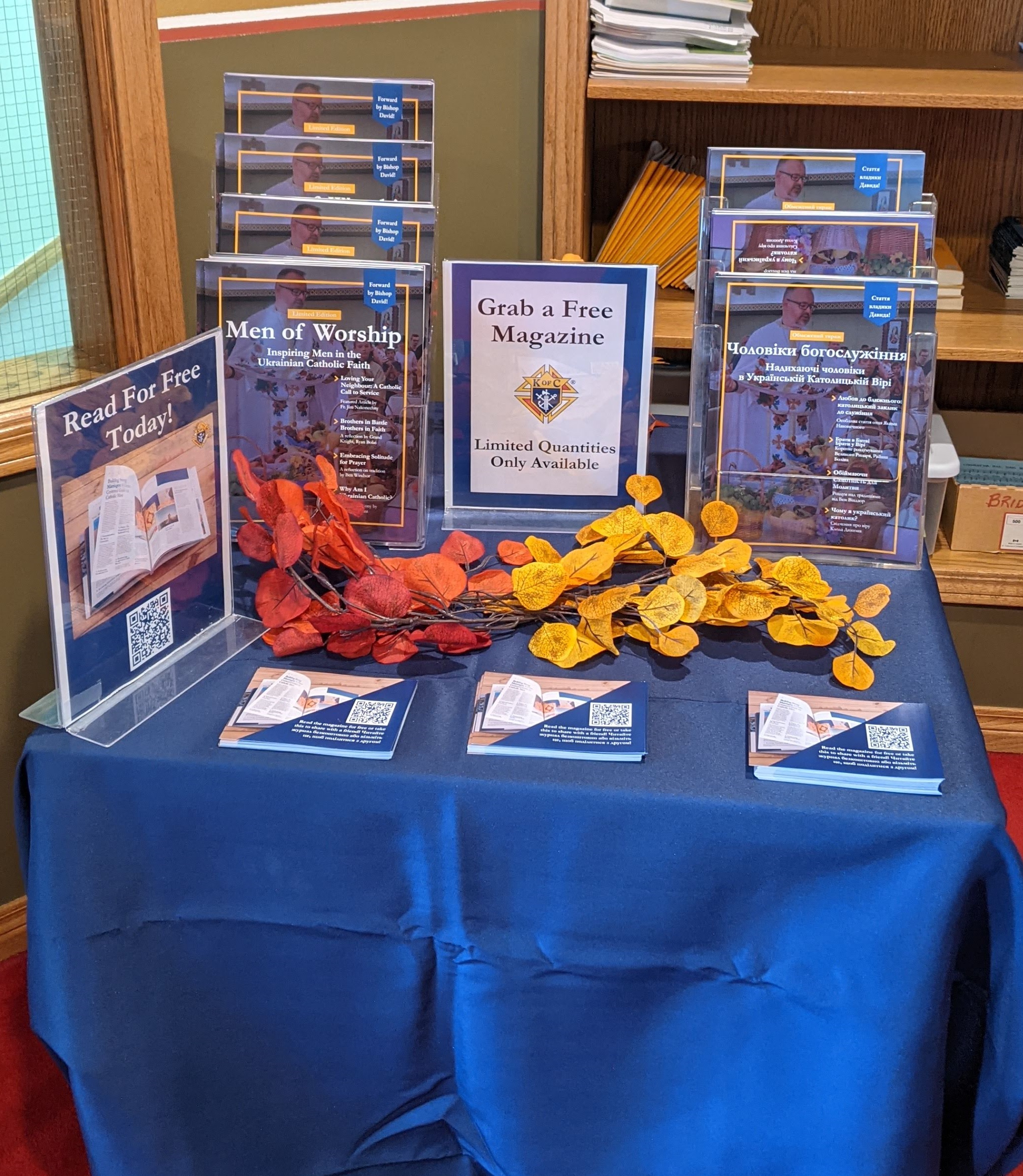 St. Vladimir Parish, Red Deer, Magazine Display