In a digital age where faith and technology intersect, the Eparchy of Edmonton takes a significant stride by introducing its first eBook listing, starting with the youth catechism. This youth catechism is more than just a collection of teachings; it's an invitation for young Christians to explore how Gospel values can be lived in the 21st century. In a world where relevance matters, the Eparchy's embrace of this eBook reflects their commitment to nurturing youthful spirituality.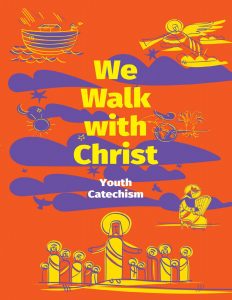 A Journey of Discovery
"We Walk With Christ" isn't just a book; it's a journey. With over 200 vibrant pages, it's a visual and textual feast divided into three sections: We Believe, We Hope, and We Love. The eBook follows Fr Andriy and a group of international youth on their "Emmaus Walk," a faith-filled pilgrimage to significant Ukrainian shrines. This journey isn't just physical; it's a quest to understand core beliefs, find hope, and embody love.
Unpacking Faith, Hope, and Love
The eBook dives deep into faith's core aspects, from God and Creation to Sacred Scripture and the life of Jesus. It explores how hope is intertwined with prayer, the role of family and Church, sacraments, fasting, feasts, and charity. And it addresses how to embody love for God, ourselves, and our neighbors through the Commandments, Beatitudes, and a pursuit of joy and justice.
Christ Alive in Modern Times
Pope Francis' message in "Christus Vivit" resonates with "We Walk With Christ." The eBook bridges ancient wisdom with contemporary life, offering a relevant, relatable path to faith. It's a reminder that Christ isn't confined to history but lives within us, impacting our lives here and now.
Accessing the eBook
You can view a sample of "We Walk With Christ" here. For those seeking a tangible connection, physical copies are available for purchase at St. Macrina Store. This approach ensures that the transformative message of faith is accessible to everyone, regardless of their preferred reading style.