Stand with Ukraine!
We sadly marked the one-year anniversary of the war in Ukraine, with millions of the country's citizens still suffering greatly with the constant shelling, destruction, fluctuating power, and lack of food, shelter, and other basic necessities. As we continue to pray for an end to the war and victory for the Ukrainian people, we also must continue to financially help families survive and regain hope.
Through the generosity of our parishioners, faithful, and friends, the Eparchy of Edmonton has raised over $2,750,000 in humanitarian aid for Ukraine, of which $2,550,000 has been sent to Ukraine through our partnership with the Catholic Near East Welfare Association (CNEWA). $200,000 remains in Alberta to support Ukrainian newcomers escaping the war. These funds provide care, medical supplies, food, clothing, and shelter to displaced persons, the elderly, and the sick. This money is also used to fund educational programs and support the work of local parishes and priests.
Our Eparchy is also supporting the Emergency Food Package Program, an initiative of the Patriarchal Curia. For only $25, an emergency food package provides much-needed relief to two people for one week. $50 will feed a family of four for one week. We encourage you to support this initiative as an extension of your good works during the Great Fast and the celebration of Our Lord's Resurrection.
Donations can be made through: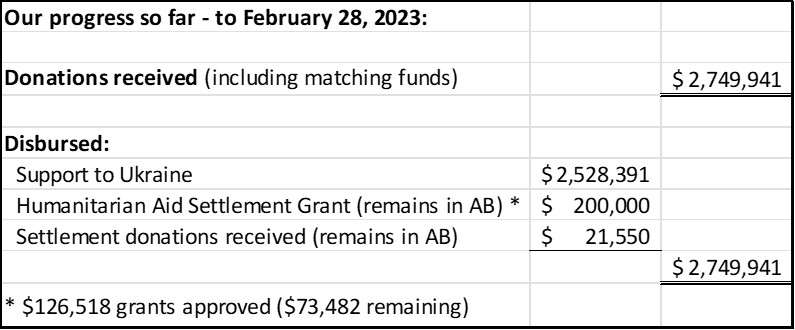 The Eparchy of Edmonton is most grateful for their partnership with the Catholic Near East Welfare Association, is supporting many critical initiatives in Ukraine during this time of war. Through your donations and the contributions by other Eparchies and donors, CNEWA has sent over $5.7 million dollars to help protect and heal Ukrainian families from the horrific violence they've witnessed.
For more information on how your donation is making a difference, see's 2022: Ukraine Emergency Relief Report.