Sign Out These Books For Free at the Resource Library!
Looking for a new book to learn more about bringing your faith home? We asked our Resource Librarian for a few suggestions on some of the most signed-out books from our Resource Library. All of these books are available to sign out at the Eparchy of Edmonton's Resource Library for free. To create an account, view our entire catalogue, and learn more, visit our Resource Library page here!
On Marriage and Family Life
By: Saint John Chrysostom 
Christian tradition often seems to give only grudging approval to the married life, particularly its sexual aspect. In these sermons of St John Chrysostom we find an important corrective to this view. Although himself a monk, Chrysostom had a profound understanding of the needs of his congregation. Inspired by the epistles to the Corinthians and Ephesians, he discusses the reasons God instituted marriage: primarily to promote holiness of the husband and wife, and only secondarily to produce children. Chrysostom goes on to discuss sexual relations, the mutual responsibilities of marriage, and parenting. While parts of Chrysostom's sermons may seem limited to his own time, the vast majority of his advice has timeless relevance for the Christian family.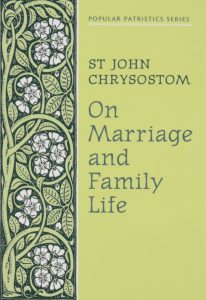 Ascetic Lives of Mothers: A Prayer Book for Orthodox Moms
By: Annalisa Boyd 
Annalisa Boyd knows motherhood–its challenges, its joys, and its potential for spiritual growth. In this prayer book she offers a wide selection of prayers mothers can use to intercede for their families as well as to grow in virtue themselves.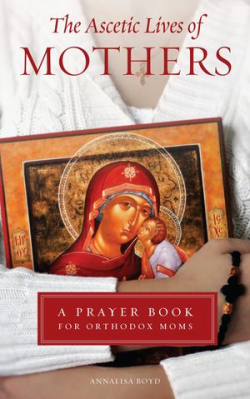 Building an Orthodox Marriage: A Practical Commentary on the Eastern Orthodox Marriage Rite
By: Bishop John (Abdalah) Nicholas G. Mamey 
Building an Orthodox Marriage offers sage counsel that is both practical and grounded in the teaching of the Church, as found in Scripture, tradition, and the marriage service itself. The coauthors bring their knowledge and experience to the aid of readers: Bishop John (Abdalah) distills his insights from his many years of marriage and pastoral guidance, as well as from the teaching of Fr Alexander Schmemann. Nicholas G. Mamey contributes his perspective as a newly married man. Together, they take readers on a journey that prepares them to understand marriage, the "great mystery" that is an icon of "Christ and his Church" (Eph 5.32).
The authors first establish the theological background needed to understand marriage in an accessible way. They then examine and explain the rich prayers and the liturgical actions of the wedding service, and conclude the book with pastoral guidance to help couples build their marriages securely on the only foundation that cannot be shaken, our Lord Jesus Christ.
This book is ideal for engaged couples, newlyweds, or those who wish to enrich their marriage at any point in their relationship. It is also an indispensable resource for pastors who help couples to prepare for marriage.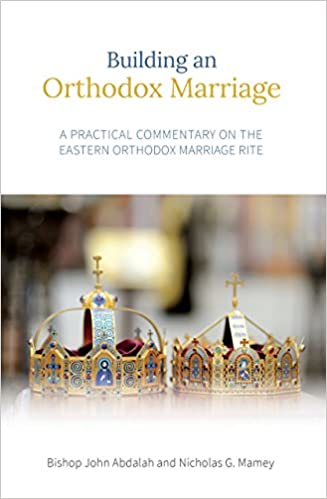 The Catholic Grandparents Handbook
By: Lorene Hanley Duquin
This book is intended as a guide for new grandparents, affirmation for existing grandparents, and inspiration for all Catholic grandparents. Each chapter has stories, practical advice, questions for reflection, a grandparent prayer, and insights from Pope Francis.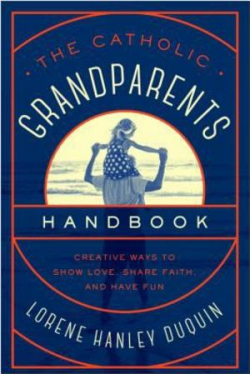 Bringing Home the Gospel
By: Judith Dunlap
This book is designed for busy parents who want to share their faith with their family and reflect on their spiritual journey. These reflections will help you bring the Word of God home and apply it to your life and help you grow in your relationship with God as an individual and as a parent.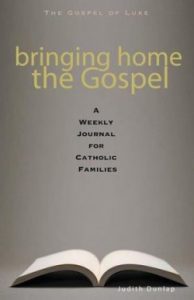 Making God Real in the Orthodox Christian Home
By: Anthony M. Coniaris
With Scriptural foundations, practical advice and solid theology the author offers support for parents striving to raise their children in the Christian Faith. Like the priest, parents represent God to their children. They are religious educators just by being parents. Here is a book filled with ideas to help Orthodox Christian parents become effective priests and religious educators in the home.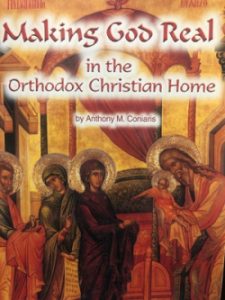 Your [Imperfect] Holy Family
By: Robert J. Hater 
What does it mean to be in a Catholic family in today's world? Father Robert Hater explains that families come in all configurations and that we all have a family to celebrate. He offers practical tips for enhancing your family's Catholic identity and helps you to recognize that, while every family has its imperfection, each is a community of people who can help one another on the road to holiness. He offers practical suggestions for family activities and gives you a new understanding of your family's role in the Church and in your own life.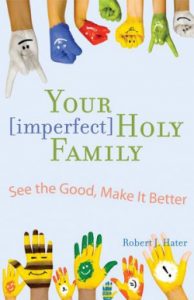 Love Is Our Mission: The Family Fully Alive
By: Pontifical Council for the Family Archdiocese of Philadelphia
This catechesis explains how all of the Catholic teaching about sex, marriage, and the family flows from our basic beliefs about Jesus. This catechesis offers a narrative beginning with our creation, soberly noting our fall and the challenges we face, but emphasizing God's plan for our salvation.