1. First create a member's account by visiting the Librarika website here. You will need to provide a name, email, and password. Then push "I agree please create my account". 
2. You will receive a confirmation email within a few minutes to confirm your account. Ensure to check your junk and spam folders if it is not in your inbox. Click the link in the email to officially confirm and create your account.  
How to Access and Checkout Books on the Eparchial Website
1. Visit the Eparchial Library website here where you can find member logins and search functions. You do not need to be a member to search for books, however, you do need to be a member to sign out books. 
2. Login using the email and password you provided when creating an account. After login in, it will take you to another page. 
3. The page you are on will contain a green button called 'request member access'. Click this button.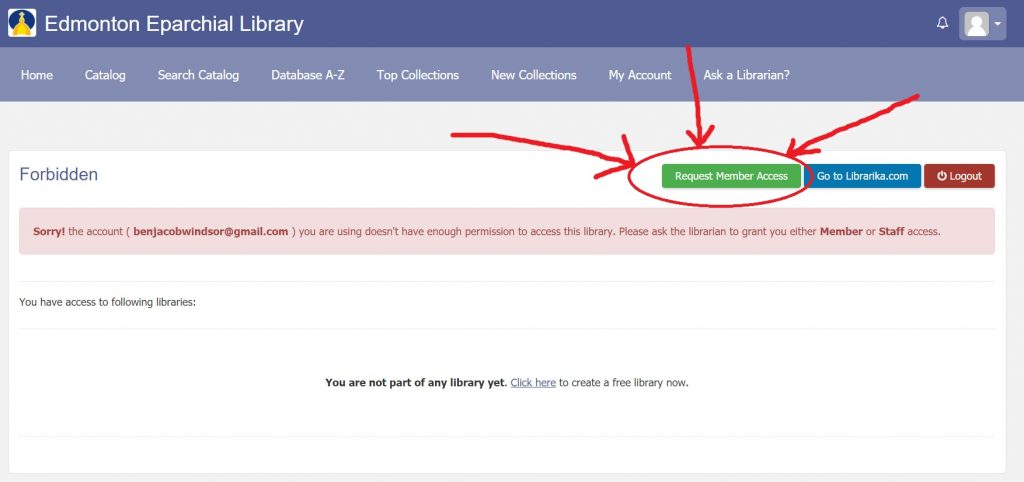 4. A pop-up will appear for a membership request. Click the green submit button.
5. Congratulation! You have successfully joined the library. You can now access the library catalog at https://eparchiallibrary.librarika.com.
6. You can search for a book on the main page of the library. 
7. Come to the Eparchial Library to pick up the books you are interested in. 
8. When at the Eparchial Library you may use the computer to log in to your account and sign out books. You can sign out a book by searching for the book, clicking on the book page, and selecting the checkout button near the middle of the page.