What Church Management Software Does Your Parish Use?
What is a Church Management Structure?
Church management software assists parishes to record and report parish information primarily parishioner lists, donor/visitor information and donations. Some software applications may also feature bookkeeping/accounting functionality.
This summary outlines some of the features of church management software by providing an overview of one particular product. This is not a recommendation, as each parish may have their own requirements, but for those who may be looking to automate their spreadsheet/ledger tracking in a cost-efficient way, Donarius is one such product.
There are many difference software packages available on the market. Donarius church management software is used by Dormition Parish in Edmonton. This application tracks donors (parishioners and visitors), their donations and provides reporting, including charitable tax receipts. It is not an accounting program. The treasurer at Dormition Parish found the tool to be easy to use, the Company responsive to questions and requests for customizations and, is relatively inexpensive.
Dormition Parish: Donarius 
Donarius  (website is www.donarius.com)
This software package provides an easy method to track parishioner and visitor donations, print or email statements, notifications as well as produce tax receipts at year end.
The following provides the features of the product and the different pricing options available for churches depending on the functionality required and modules required.  This is followed by a summary of how the product works including sample screens and features.
Donarius – Features and Pricing
Small churches and organizations receive 25% off. The base version price is $67.97 CDN (less 25% for churches = $50.98) and includes the following:
tracks member and visitor donors (personal information including name, address, phone/email etc.)
tracks donations (includes tracking of different categories of donations such as Sunday collections, Christmas/Easter offerings, eparchial collections etc.)
prints tax receipts using built-in receipt styles approved by Canada Revenue Agency (CRA). Several layouts are available.
tax receipts can be printed either yearly and/or one tax receipt for a donation
prints a variety of reports including membership lists, daily donation totals, and periodic reports
prints mailing labels
imports/ exports data
Additional modules are available as follows and cost an additional $18.00 (less 25% for churches = $13.50 CDN) each:
track pledges
track pre-authorized deposits (P.A.D. or A.C.H.) / Online Donations
track gifts in kind (non-monetary donations) and gifts with an advantage
design and print customized tax receipts, if you don't like any of the built-in styles
print personalized letters and send personalized emails/text messages.
(This module is necessary to email your tax receipts as PDF files and to print your own Sunday offering envelopes.)
keep track of relationships and families in the database
print a photo directory
Using Donarius
To use Donarius, an initial set up is required including (1) information about the parish, (2) parishioner information (names, addresses and donation envelope number), (3) donation types. Below are sample screens from the software: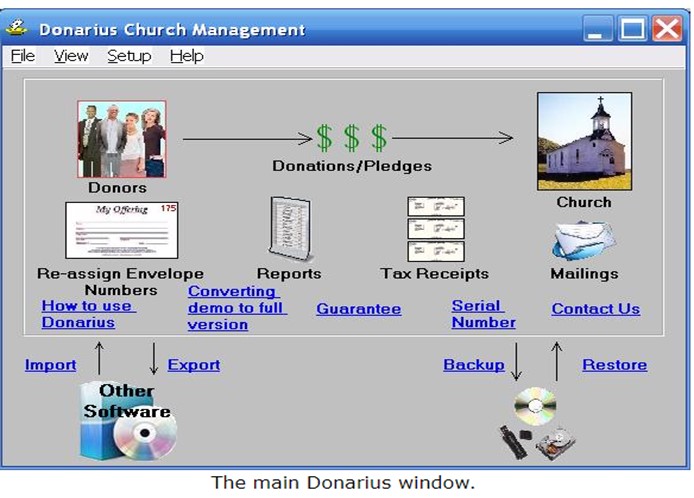 2. Set up parish info on the Organization Information screen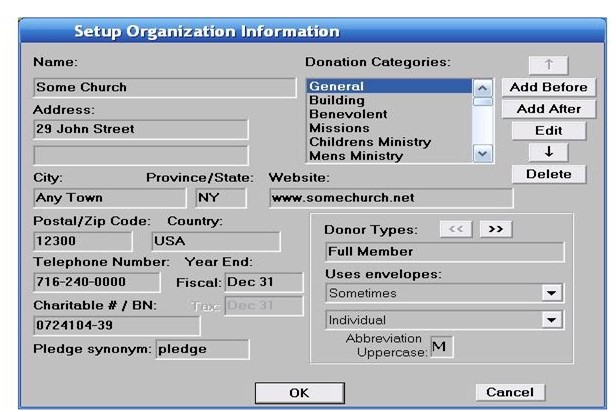 The Organizational screen is where you enter information about your parish and set up specifics related to your donations and donors. Two key fields include:
donation category is where you customize up to 15 different categories of donations (e.g. Sunday Collection, Seminary collection, General donation, Christmas/Easter offerings, Eparchial collections, etc.)
donor type is where you identify the characteristics of a donor. Each parishioner/donor will be assigned a donor type and any combination of donor characteristics (i.e. full member, visitor etc)
3. Enter Donor Information (one time set up per parishioner/donor)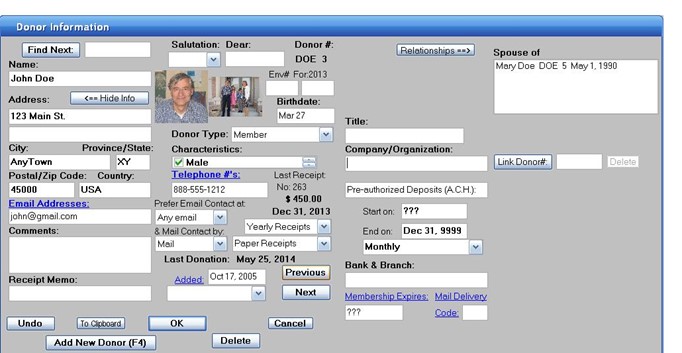 Entering basic information for each parishioner only takes a few minutes per parishioners/donor. The Donor information screen above contains all the donor specific information, name, address, date of birth, Envelope #/ Donor # etc. that is required to contact your parishioners/donors and preparing tax receipts according to CRA.
Parishioners can be added anytime, and it is helpful to add visitors and other guests who donate so that you can record their address for tax receipts purposes.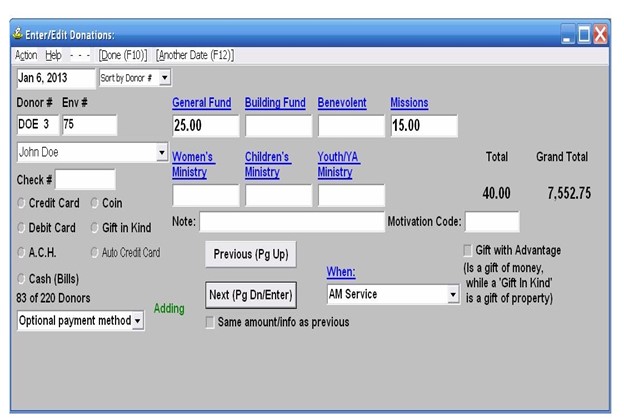 This is the window where you record donations by date for each donor.
First you search for the donor by name by typing the first three letters of the person's last name or envelope # (which you entered in the previous step).
When the donors name is displayed, enter the donation for the appropriate donation category. You may also record how each donation was made: by giving a check # or choosing cash, credit card, etc.
You will also notice that Donarius tracks the running total of the deposit. These totals are useful in reconciling the reports to your accounting software where the funds are recorded for financial reporting purposes
5. Preparing and Printing Reports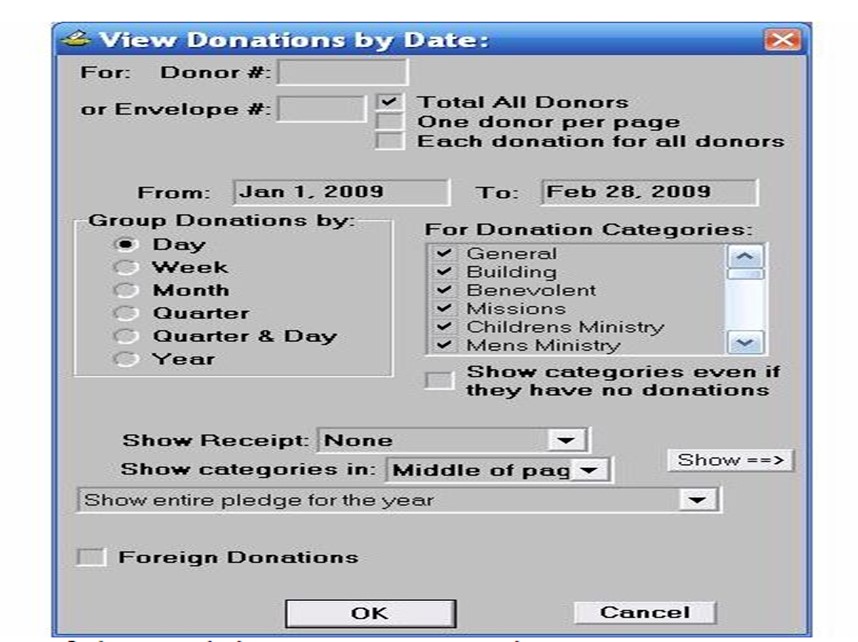 Donarius has reports that can be customized by date, category and sorted by donor or envelope #. You will decide on the reports that best support the needs of your parish. The sample screens below provide examples of Donations by Donor, tax receipt reports and communications options.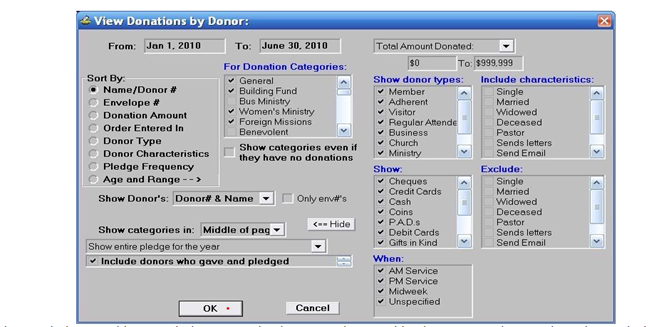 On this screen you can create a report that lists each donor and how much they gave for a specific date or a date range. The donors can be sorted by donor #, envelope #, the order in which you entered the donations, the donation amount or donor type.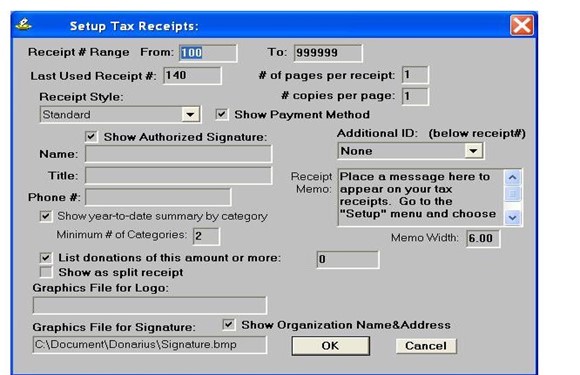 Income tax receipts have a variety of formats and a choice of receipt styles. For example, you may wish the receipts to have a logo, a scanned signature, a section for the donor's records, a year-to-date summary of donations or a list of the type of donations made. An optional message can also appear on the receipts.
If these options are not enough, you can have a customized tax receipt (Canadian users must display specific information as required by the Canada Revenue Agency) including unique numbering. Tax receipts can be issued as required or annually at year-end.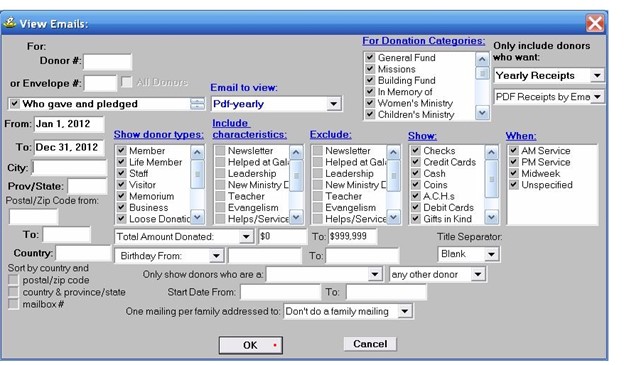 With Donarius you can send out personalized letters, emails and text messages including the ability to email receipts with a PDF attachment. The screen above displays some options you have.