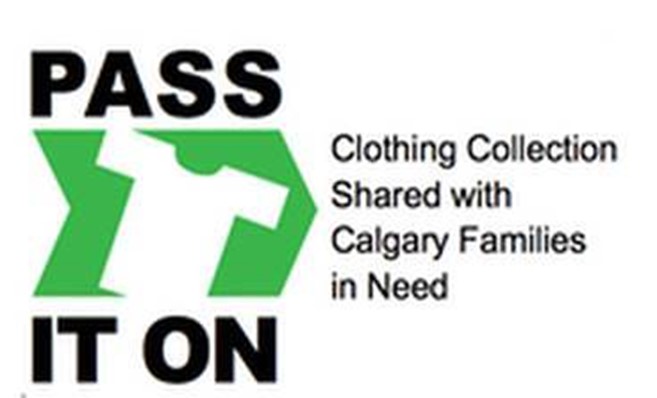 Let the man with two tunics share with him who has none" (Luke 3:11)
Learn about this charitable initiative which began at St. Stephen Protomartyr parish in Calgary. It has grown to involve a number of churches, schools and organizations and has provided gently used clothing, boots, and toys to thousands of people in need! Learn how they have evolved during the Covid19 pandemic to support the local organizations JacketRacket and Street Sisters.
Sherwood Park – Saint Sophia Parish:  In 2006, a committee was formed for Outreach called HIHO (Happiness is Helping Others). In 2020/2021 our activities have included a Bountiful Harvest fall food drive and our yearly winter collection of blankets, sleepings bags, and winter clothing for the homeless. These collections were distributed to the Strathcona County food bank and to the Mustard Seed, Bissell Centre, and St. Vincent de Paul. Members of this group walked in a fundraising walk for Hope Mission. At present, a group is knitting/crocheting twiddlemuffs for dementia patients at the Grey Nuns Hospital. Upcoming events include our annual Spring collection for the Strathcona County "Safe Place Women's Shelter" where we gather toiletries, slippers, and Pajamas for delivery to the shelter. Now that St. Sophia Parish has our own building, we are very excited to work on expanding the scope of our Outreach efforts once Covid restrictions have been lifted. 
 Calgary – Saint Stephen Parish:  Maintains food gift cards to provide to the needed who approach the parish. In late October and early November the Knights of Columbus organized  a food drive at the parish and collected around 500 lbs of food for the Veteran's Food Bank. Completed a food and gift drive funded by the Choir and organized by the UVWLC – packages delivered to nearly 70 worthy recipients including seniors and shut ins as well as families in need. Food hampers were distributed in the spring and summer as the parish had a supply of donated goods stored at the parish.
Edmonton – Saint Josaphat Cathedral:  Needy Fund (monthly collection). Funds have been distributed to the following charities:  Marian Centre, Bissell Centre, Hope Mission, CNEWA Canada, Lurana Women's Shelter, The Back Porch, Ukrainian Social Services, and the Mustard Seed.
Edmonton – Dormition of the Most Holy Mother of God Parish, together with Saint Nicholas Melkite Parish – food and monetary collection for Our Lady of Peace School towards their school's lunch program. Led by UCWLC – Parish Branch, together with teens in the parish.
Edmonton – Holy Eucharist Parish:  Every year, during Pylypiwka-Nativity Fast, collect food and clothing for the less privileged in the community. Donned to Marian Centre food and clothing
(Gloves, hats, scarfs, socks and extra) for children in schools in the neighbourhood. Collected over 50kg of food and 20kg of new clothing. One Christmas Tree in the church is decorated with that clothing and after Christmas will be delivered to the school. UCWLC branch of the parish donates monies to the Marian Centre, Bissell Centre and Mustard Seed.
Edmonton – Saint Nicholas Parish:  Organized a food drive for the Edmonton Food Bank during the month of November 2020 as part of the Holodomor Commemorations. The parishioners collected 101 kilograms of food and $60.00 in donations towards the Food Bank. Also collected and donated $500.00 to the Marian Centre in Edmonton.  UCWLC Parish Branch also donated $200.00 to Marian Centre. UCWLC organized a collection, totaling $555.00, which enabled them to prepare 50 Buddy Bags to be donated to a Safe Place in Sherwood Park – this is a safe home for women, with or without children, seeking shelter from abusive situations at home.   
Lethbridge – Saints Peter and Paul Parish:  direct donations of food or money to the local food bank; support "Christmas Hope," a joint project of the Interfaith Food Bank, the Lethbridge Food Bank, Lethbridge Family Services and the Salvation Army. 
Radway – Assumption of the Blessed Virgin Mary Parish – Donated to the Radway Health Care Auxiliary to purchase Christmas Gift Bags for the approximately thirty residents of the Radway Continuing Care Centre since the traditional gathering for Christmas was not possible during the pandemic.
Red Deer – Saint Vladimir Parish:  food drive for the Red Deer Food Bank during the month of November 2020 as part of our Holodomor Commemorations. UCWLC Parish Branch also had a bake less bake sale fundraiser to raise funds to purchase a food hamper for a local woman's shelter.
Pastoral Centre, Eparchy of Edmonton – On November 25, the Pastoral Centre gathered to make sandwiches and prepare 80 bag lunches and distributed them to the homeless/working poor at the House of Refuge, Edmonton.  The House of Refuge is an outdoor inner city mission which provides groceries and food to those in need 365 days a year.  Also, "Armchair Gala": A portion of every donation made to this year's Armchair Gala will be forwarded to a soup kitchen or food bank in the donor's area to provide a hot meal to someone in need.