Christmas will look quite different for many of us this year. Why not take the opportunity to shift to a greener, more environmentally friendly Christmas? While it may seem overwhelming when we consider all the waste that celebrations like Christmas can bring along with them, there are some small steps that each one of us can take to reduce our impact on the environment.
Choosing how to spend our money speaks loudly to the producers and will make a difference. Given our current situation, we have heard a lot about the importance of supporting  businesses that are suffering, but buying local is always a good thing!
Local products are often more ethically produced as Canadian regulations help ensure decent wages and good working conditions for the workers.  Shopping local often reduces the use of fossil fuels for transportation and production itself. Foreign production companies are often not required to follow these same regulations.
Some markets have moved online. Other makers are using websites like Etsy to sell their products. Edmonton Made showcases some local Edmonton businesses (http://www.edmontonmade.com). Explore Edmonton has a Shop Local listing of some local boutiques (https://exploreedmonton.com/shopping). Many local boutiques offer curbside pick up.
You may also consider gifting sustainable items.  Many plastic or single-use items we use as part of our daily routines can be replaced with more sustainable options.  Re:Plenish and Carbon Environmental Boutique are two examples of shops in Edmonton that sell sustainable items. Waste Free Edmonton has listings of shops that offer bulk, zero-waste and upcycled products (https://wastefree.ca/resources-for-individuals/).
Shopping second hand is also a more sustainable option. While going out to shop in second hand or consignment stores is discouraged at this time, Kijiji and Facebook Marketplace are alternatives that allow you to arrange for contactless porch pickups and payments.
3. 

Donate in someone's name
Instead of purchasing a physical gift, consider donating in a loved one's name to an organization or charity that means something special to them. We know that many in our city are relying on charities this year, even more than in previous years.
4. 

Send Eco-friendly Christmas cards
Many greeting card companies print cards on recycled paper. Consider looking for this when you are purchasing Christmas cards. Alternatively, you could cut out portions of the front of Christmas cards you have received in previous years and paste them onto new cards to make your own Christmas cards.  You could also send electronic Christmas cards.
5. 

Use sustainable wrapping paper
Unfortunately, most wrapping paper is not recyclable. Why not use newspaper and get the kids to colour/paint/sticker and decorate it? See the link for some additional ideas on using newspaper as gift wrap https://www.nytimes.com/2020/12/05/at-home/wrapping-activity.html. Alternatively, sew reusable cloth bags for gifting or use gift bags that can be reused at a future Christmas.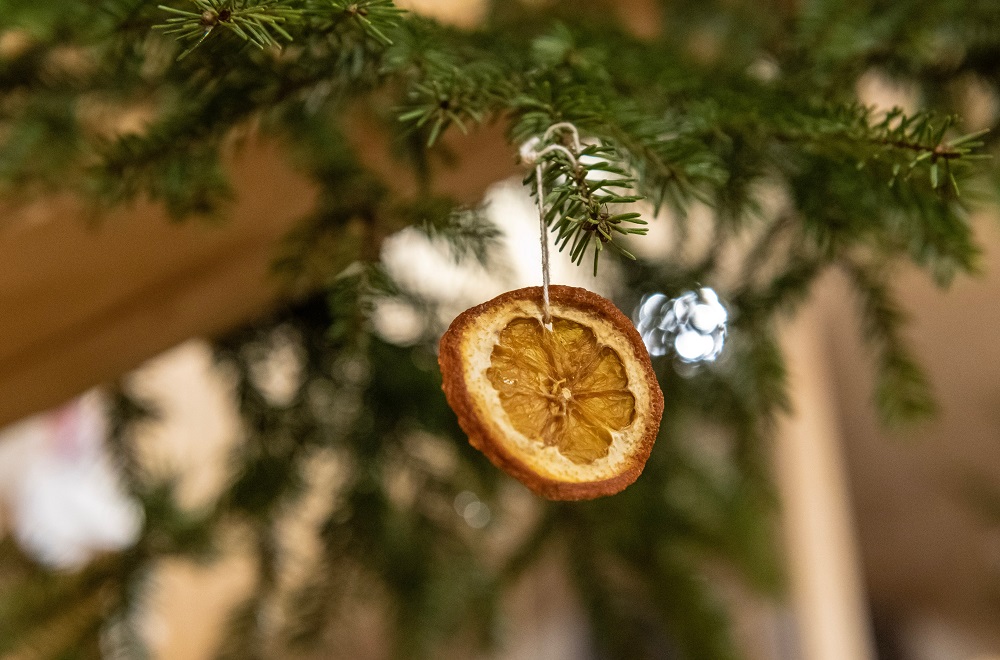 6. 

Make compostable Christmas decorations
Consider using pinecones, berries and fresh greens like spruce and pine boughs to decorate your home. See the link for a tutorial on making eco-friendly snowy pinecones https://www.ourecofriendlylife.com, (Instagram link at the bottom).
String together popcorn, dry fruit or candy instead of garland and make decorations out of dough instead of buying plastic ornaments for your tree.
Save up to 90% on your power bill and help save the environment by switching to LED lights.