Calling all children and teens! Tell the world about the gift of the earth that we have received from the Creator. As a precious gift from God we want to take good care of it. During this jubilee year we are asking you to create a poster that will encourage people to find ways to let the earth rest!
Design a poster that:
– Encourages people to love the earth 
– Show ways we can take care of the earth
– Reminds people how beautiful the earth is
– Suggest ways we can protect the earth
Take a photo or scan your poster and submit your entry by filling out the form above!
The deadline to submit is Sept 21, but get them in early because we want to post them on our website and other social media all through the Season of Creation (Sept 1 – Oct 4)!
There are three categories and prizes:
Age 5-9 – $25 and a surprise gift
Age 10-14 – $25 and a surprise gift
Age 15-18 – $50 and a surprise gift
We will post the winners on Oct 4, 2020 12:00pm on our website and social media. Winners will also be contacted by email after the announcement.
Details:
Create the poster on an 8 ½ X 11 sheet of paper
Crayons, felt, paint and other media are acceptable
No photographs, digital images or logos
One submission per person
Parental permission required for all minors
Posters will be displayed with first name and age only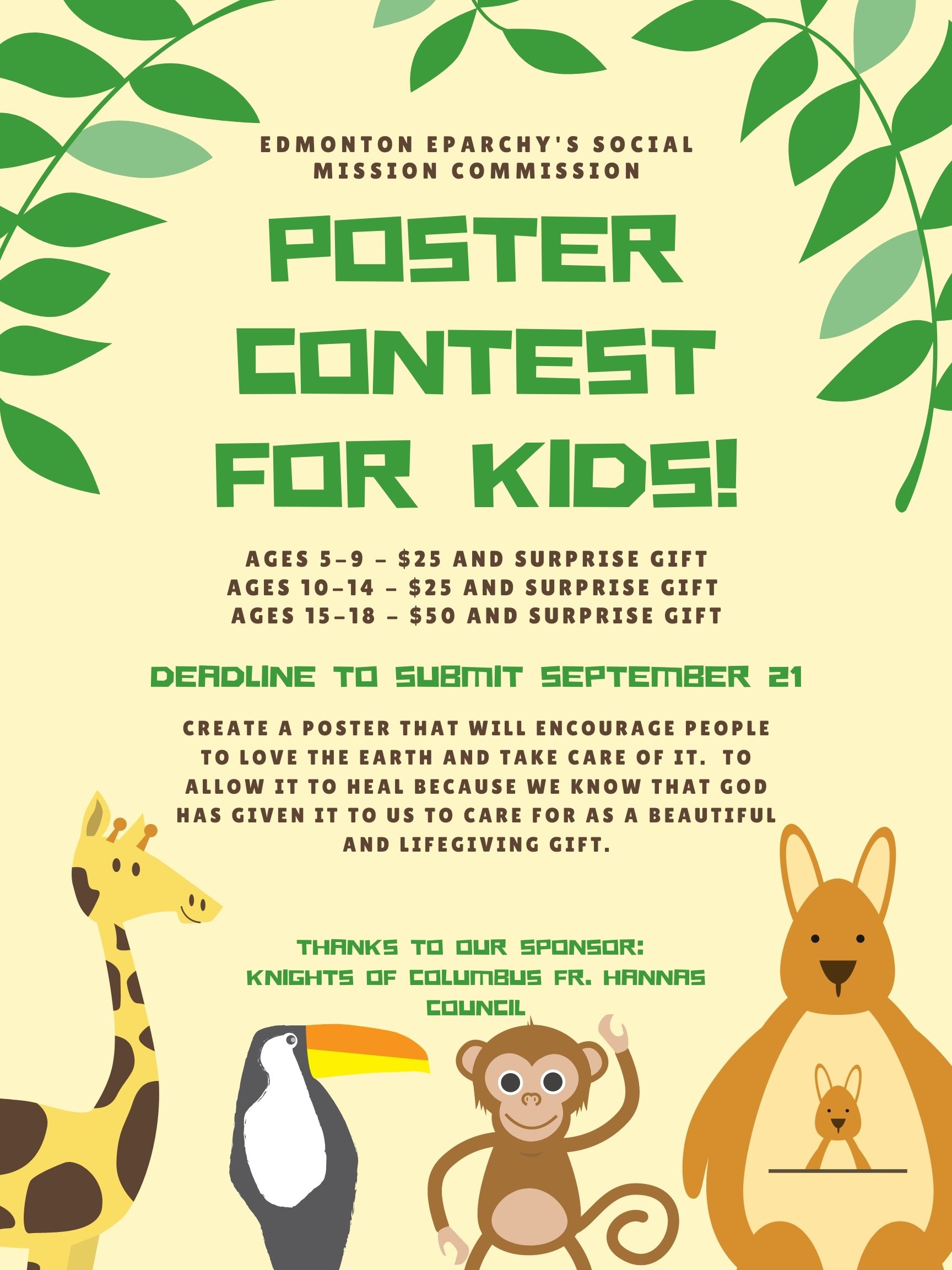 General Information:
The entry period will begin at 12:00 (MT) on Aug. 17, 2020 and will close at 12:00 (MT) on Sept 21, 2020. Prizes will be awarded on Oct. 4, 2020. Winning entries will be notified via email and the winning posters will be displayed on the Edmonton Eparchy website.
The competition is divided into the following categories: 5 to 9, 10 to 14, and 15 to 18.
Only one entry should be submitted per person. Multiple entries from one person will result in disqualification.
Poster entries may be drawn, painted or sketched using pens, pencils, crayons or charcoal, or using oil, acrylic or watercolour paint, as well as mixed media. No photographs are allowed.
Poster entries may or may not include text. If text is used, no more than 25 words or 100 characters can be accepted.
All artwork must be original and should not include any personal information.
Posters can only be submitted using the entry form provided. All fields in the contest entry form must be completed and after uploading the poster design, the ENTER button must be clicked.
8 ½ inches by 11 inches sheet is recommended, to make it easier to scan and upload your poster design. If your poster is larger, you may take a digital photo of the work and upload the photo file.
Only digital files saved as a JPEG will be accepted and submissions must be made through the online form provided – please do not send in physical posters.