Excerpt written by the Social Mission Commission of the Eparchy of Edmonton.
Faith is not only about an individual's relationship with God, (the first great commandment). It is equally important how we relate to one another, to all of society and to our world. It emphasizes the communal dimension of our faith (the second great commandment).
What is Catholic social teaching?
The social teachings of the Catholic Church are based on the wisdom of Holy Scripture and the continued practice and reflection over the centuries on the teachings of Jesus Christ found in the Gospels.
The Catholic Church has developed 10 principles that should guide our social action: the dignity of the human person, the common good, solidarity (we are one human family), preferential option for the poor (the needs of the poor and vulnerable must come first), stewardship of creation, subsidiarity (society's decisions should be made as close as possible to the people who will be affected), participation (all people have a right and responsibility to participate in society), rights and responsibilities (these rights must be protected, and the responsibilities met), economic justice, and peace.
3 Ways to Live the Social Mission of the Ukrainian Catholic Church
Everything we do should be guided by love in action.
 *   Lobby your government to take a stand against human injustices, including genocide and war.
 *   Reflect on your own words and actions.  Do they promote peace or division?
 *   Learn about programs that promote peace.
2.  Care for all of humanity.
"For I was hungry and you gave me something to eat, I was thirsty and you gave me something to drink, I was a stranger and you invited me in,  I needed clothes and you clothed me, I was sick and you looked after me, I was in prison and you came to visit me." MATTHEW 25
Some Ideas:
 *   Shop ethically – know where your products come from and who they affect. For example: look for the fairtrade logo or the certified B corp logo.
 *   Respect the Sanctity of human life (The unborn, disabled, elderly, vulnerable). For example: write to government officials expressing your support for life at all stages. Take part in the March for Life.  Subscribe to the Euthanasia Prevention Coalition Newsletter.
 *   Get to know your neighbour. Through solidarity and love in action, support minority groups and vulnerable populations. For example: attend an event, support financially or in kind, or take a course.
 *   Educate yourself on various topics affecting people here, and around the world. For example: human trafficking, worker exploitation, genocide, the refugee crisis. 
 3.  Care for Creation (environment and everything in it!)
Humankind carries responsibility for all creation. This responsibility manifests itself on different levels: in daily personal life, in the use of technical means and various technologies, in the use of natural resources and sources of energy. (Christ our Pascha 991)
Some ideas:
 *   Start using reusable products and stop using single-use products.
 *   Invest in cleaner energy (ie; vehicles/solar/wind)
 *   Recycle, and compost.
 *   Shop locally, and purchase organic products.
 *   Read Laudato Si (Pope Francis/ encyclical) to learn more about Care for Creation and how to put it into action.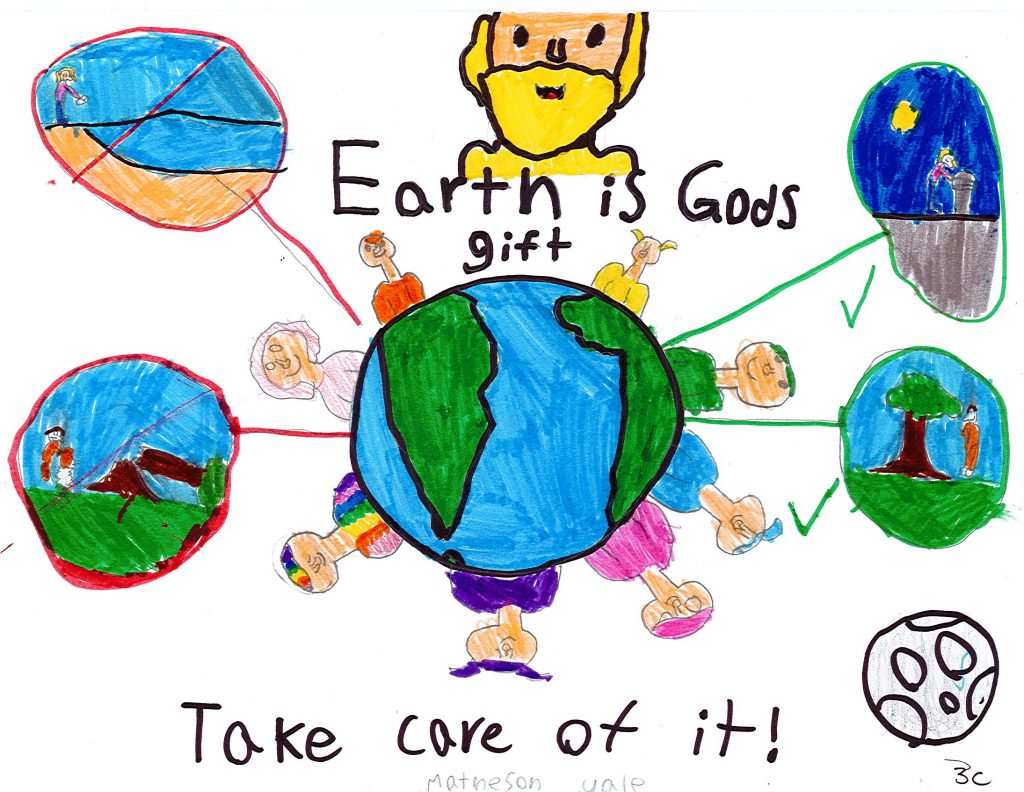 As a precious gift from God we want to take good care of it. A submitted poster for a children's poster contest. 
The Believer's Social Directives
Adopted by the Third Session of the Patriarchal Sobor of the Ukrainian Greek Catholic Church that took place in Lviv on June 28 – July 5, 2002 and confirmed by the Synod of Bishops of the Ukrainian Greek-Catholic Church on July 15, 2002 in Kyiv.
Being baptized in the name of the Most Holy Trinity, having the example of the saints, confessors and martyrs, remaining under the heavenly intercession of the most holy Mother of God, as a believer of the Ukrainian Greek-Catholic Church, I adhere to the following principles:
1. I live by faith in Jesus Christ according to the teaching of the Church. I help society through my personal life according to God's grace. I respect the image of God in every human being. I avoid superstitions and fortune-telling.
2. I respect my body as a temple of the Holy Spirit, and do not defile it with alcohol, tobacco, narcotics, or sexual promiscuity. I oppose these with the wisdom and power of the Gospel and with Christian morality. I seek to influence the mass media that they may reflect Christian culture.
3. I show my allegiance to Jesus Christ. I embody my faith in my daily work and everyday life. I participate in the Divine Liturgy and cleanse my soul through the Mystery of Repentance.
4. I perform my duties conscientiously. I make every effort to overcome discord, malice, and hatred among people. I teach myself to value social unity through participation in community and political life.
5. I thank God for the gift of life. I defend human life from conception to natural death. I help the sick, the vulnerable, and those deprived of rights.
6. I preserve chastity in both married and celibate life. I cultivate marital love and strengthen the family through common prayer and mutual respect and care. I maintain marital fidelity. I teach children and youth through my personal Christian example. I help them resist temptation.
7. I practice selflessness. I do not covet the shared or personal goods of my neighbours be they material, spiritual or intellectual. I will do everything possible to prevent my taking or giving bribes.
8. I seek truth and just laws. I respect the right of others in their quest for goodness and truth. I oppose all forms of violence.
9. I respect the natural riches of the earth as God's gift, and use them prudently.
10. I live in the hope given to me by God. I bear trials courageously and patiently. Through my good deeds, I strive to bring about the kingdom of God.
What Does the Ukrainian Catholic Catechism Say about Social Justice? 
a) Private Property, Just Stewardship, Fair Exchange, and Distribution of Material Goods
The right to private property and a fair distribution of material goods in society are conditions for guaranteeing the dignity of the individual who lives in that society and a guarantee of the means needed for one's full development. It is precisely the defence of the dignity and rights of a human being, created in the image of God, and the safeguarding of peace and harmony among people and communities as a manifestation of the social dimension of Christian love, that are the aims which all of society's material goods serve. The just stewardship and distribution of material goods is not an end in itself, but a means to achieve the comprehensive development of each individual person, as well as of society as a whole.
Private property is a form of personal control of the goods that are required for a person's full and comprehensive development. With the help of such property, each person obtains the "space" for individual and familial independence. Consequently, private property is an important element in the realization of personal freedom in social life. Respect for this form of ownership and the guaranteeing of one's right to it are important elements of a just and free society. 
In defending one's right to personal property, Christian tradition does not make this right an absolute, but regards it in the context of the universal appointed purpose of all material goods. In this appointed purpose lies the social function of private property. Only the Lord, as Creator of heaven and earth, is Master of the whole world that he created. We are but stewards in the Lord's vineyard. He has entrusted it to our care. Thus, in timely fashion we are to return its fruits to their true Master (see Mk 12:2-11).
Justice as a social virtue consists in giving God and each person—each member of society—that which is their due. Such justice in social life is realized in two basic forms: in a fair distribution of material goods, on the one hand, and their fair exchange, on the other. Distributive justice is safeguarded when communal goods—in accordance with just laws—become accessible to all members of society. Examples of this are: appropriate social security, health care, pension protection, etc. Fair or just exchange is achieved through the fair trade of material goods between different members of society. One example is when the price of a product corresponds to its quality. Distributive justice regulates what the community owes its citizens in proportion to their contribution and needs; it ensures that no member of society is denied access to basic goods and services (for example, appropriate social protections, health care, pension income, and the like). Legal justice concerns what the citizen owes in fairness to the community, and insures that all citizens have equal protection under the law, regardless of status or wealth.
b) Morality in Social Relations
Human society is impossible without interpersonal relations. The fundamental condition for human interaction, and by extension for social dialogue, is recognition of the dignity of others and respect for them. This respect, which begins with traditional gestures of politeness, includes truthfulness and trust between those communicating with each other. One form of social dialogue is the dissemination and exchange of information. The truthfulness of information is a foundation for the creation of association among people.
Christ said of himself: "I am the way, and the truth, and the life" ( Jn 14:6). The Christian, who lives in Christ, is a servant of the Truth. Christian truthfulness has a deeply religious character: to witness to the Truth, to Christ. The eighth commandment demands truthful speech: "You shall not bear false witness against your neighbour"563 (see Ex 20:16). A Christian is responsible for his or her words: "On the day of judgment you will have to give an account for every careless word you utter" (Mt 12:36). Every word must be treated with special reverence, and therefore one ought to avoid idle talk, chatter, calumny, and lies. Every such abuse of words is itself a sin. However, it becomes an even greater evil when it harms a neighbour.
We live in an information environment created by the mass media. In this setting, we, as Christians, are called to be servants of Truth. The ability to speak the truth and to be faithful to the truth also means being able to keep silent and to maintain confidentiality for the good of one's neighbour.
c) The Defence of One's Honour and Good Name
For the human individual, one's honour and good name are a treasure. Every person is entitled to honour, respect, and the social manifestation of such respect. In the Christian understanding, honour is also the social expression of the dignity of a person created in God's image. One of the tasks of a society is to care for the preservation of its citizens' honour and good name.
A person damages the honour and good name of another both through personal actions as well as through the structures of sin acting in society. Defamation of the good name of another, calumny, gossip, and slander are personal sins against the honour of another. Personal sins also include participation in the sins of another: counselling someone to sin, assisting in sin, defending sin, praising sin, and being silent in the face of sin. By partaking in the sins of others, we also become participants in the social structures of sin: by commanding someone to commit a sin, by provoking someone to sin, by consenting to sin, and by failing to punish it.
d) Morality in the Mass Media
The mass media is a positive characteristic of the contemporary age. Those engaged in social communication are called to build up civil society, to promote unity within society. In its development, the mass media has become a powerful social force. This places great responsibility on those working in this field as regards the information being disseminated. Information content can unify people, facilitate mutual understanding in society, and heighten social consciousness, or, on the contrary, can deceive and manipulate popular opinion. One should avoid engaging in those methods of providing information that distort the truth, increase the passivity and depressiveness of its recipients, and reduce their capacity to make critical judgments.
Advertising and various entertainment programs are sometimes directed toward arousing artificial human needs; they engender a consumer mentality and can become a powerful means of spreading ideas contrary to the Christian worldview. The unscrupulous commercialization of the mass media, the drive for profit, and the creation of various technologies designed to influence and manipulate the public—all of these distort authentic values and human needs, and promote artificial norms and examples of behaviour.
The positive influence of the mass media on popular opinion and social consciousness is possible only when the activities of those who engage in the mass media are firmly based on moral principles. This means that priority should be given to the dissemination of information and diverse media productions that foster the development of solidarity and peace, and which also form the conscience and a sense of dignity in people.
e) Christian Upbringing, Education, and Schooling
The Christian family is not only the most important environment for receiving the gift of new life, it is also the primary sphere of its development. As a family raises and forms children, it develops and educates them in a full array of dimensions. Parents are the primary, although not the only, educators of their children, and no one can deprive them of this responsibility. Christian parents have both a right and a duty to raise their children in a Christian manner. Therefore, they ought to seek the best means of fulfilling this responsibility effectively. Parents are responsible for passing on the treasure of faith to their children, and are called to bring their children to "the stature of the fullness of Christ" (see Eph 4:13). The person involved in raising children possess a high honour: "For if those who make statues and paint portraits of kings enjoy so great an honour, shall not we who adorn the image of the King of kings (for a human being is the image of God) receive ten thousand blessings, if we effect a true likeness?"
The state and society, on the basis of the principle of subsidiarity, ought to help parents fulfil their parental responsibilities, but they cannot assume the role of the family in the raising of children. Society may assume the responsibility of raising the young only when parents cannot fulfil their parental obligations. The state ought to create the necessary conditions for education and schooling in accordance with the wishes and the will of parents. The Christian family has a right to send its children to schools that can guarantee their education in a Christian spirit.
The educational mission of the Church as Mother and Teacher is to proclaim the path to salvation and to promote growth in Christ. The Church forms and educates her children through the liturgical life; she leads them into the depths of the Christian faith through catechesis, and nurtures them with the Word of God as well as Body and Blood of Christ. At the same time, the Church establishes Catholic schools, from preschool to university, in order that each new generation may grow in Christian and civic consciousness, and thus become capable of transfiguring the culture in which they live.