Pastor:
Rev. Jim Nakonechny (Administrator )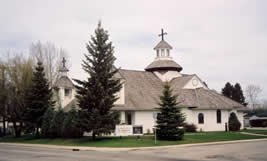 Location: 3932 – 46 Street, Red Deer, Alberta
Phone: (403) 342-4920
Service Schedule:
Sunday Liturgy:
10:00 AM
Weekdays Liturgy:
Friday: 12:00 Noon (September-June)
Moleben:
Wednesday: 7:00 PM (September-June)
RED DEER – St. VLADIMIR Parish – Парафія св. Володимира Великого
In 1977 the Ukrainian Catholic Eparchy of Edmonton purchased 2 properties on 39 Street and 46 Avenue. Sr. Esther Kurylo, SSMI started visiting the families and searching for our faithful in the telephone book. By September 1983 additional property was purchased. The first Parish meeting was held in February 1984 and on March 4 already the Ukrainian Catholic Parish of St. Vladimir was established by Bishop Greschuk.
The first Parish priest Fr. Mark Bayrock, was appointed on February 9, 1986 and a truckload of church furnishings was brought from Drumheller Ukrainian Catholic church which was closed for lack of parishioners.
Patriarch Myroslav Cardinal Lubachivsky and Eparch Most Rev. Demetrius Greschuk visited the Parish on May 13, 1986. On May 13, 1990 the first Divine Liturgy was celebrated in the newly constructed St. Vladimir church. On November, 2009 the parish fully paid off its loan. In 2005 the Eparchy purchased a residence for the priest, and the Parish is looking after the maintenance of the house.
Eparchial clergy who served the parish: Fr. Mark Bayrock 1985-1992; Fr. Philip Shinduke 1993-1994; Fr. Mark Bayrock 1995-1997; Deacon Walter Bialobzyski 1998; Fr. Myron Pyszcz 1999-2000; Fr. Ron Hollohan 2000-2001; Fr. Julian Bilyj (2002-2013), Rev. Serhiy Harahuc (2013-).