Family Matters - Growing Holy Families in the 21st Century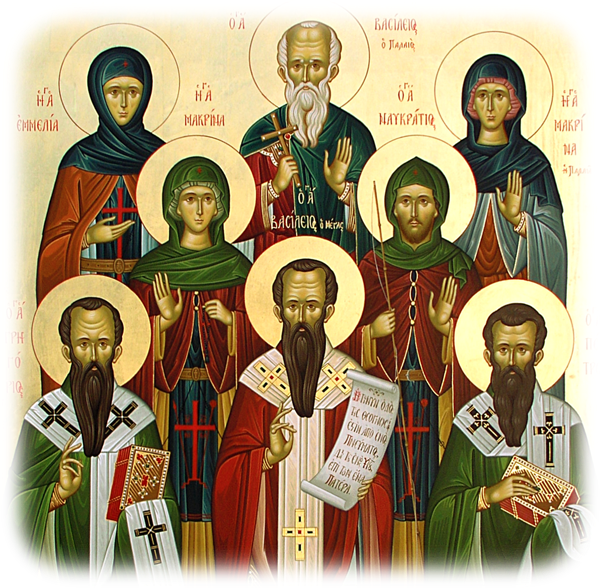 Holy Family of St. Basil the Great
St. Basil the Great (330-378) of Caesarea in Cappadocia was born into a wealthy and pious family. Their love for Christ, each other and the Church produced fruitful holiness: His father Saint Basil the Elder, his mother Saint Emmelia, his grandmother Saint Macrina the Elder, his sister Saint Macrina the Younger and his brothers Saints Gregory of Nyssa, Nafkratios of Mt. Nitria, Peter of Sebaste and Saint Theosevia his youngest sister. There are also about four or five unnamed sisters, who had pious and God loving families, and his grandfather who was martyred for the faith.
Prayer to the Holy Family of St. Basil the Great:
Troparion, 4 Tone
An eight-numbered system of servants of Christ,* Basil we celebrate together with Emmelia,* Basil the Great, Gregory with Peter and the divine Nafkratios,* the God-bearing Macrina as well as Theosevia;* as a divine family they were well-pleasing to Christ.
"Your children will always be sufficiently wealthy if they receive from you a good
upbringing that is able to order their moral life and behavior."
"Let everything take second place to our care for our children, our bringing them
up in the discipline and instruction of the Lord."
"Such is the power of love: it embraces, and unites, and fastens together not only
those who are present, and near, and visible, but also those who are far distant.
And neither length of life, nor separation in space, nor anything else of that kind,
can break up and divide in pieces the affection of the soul."
"For this reason a man shall leave his father and mother and be joined to his wife
and the two shall become one flesh" (Ephesians 5:31). There is another aspect of
marital obligation: Paul shows that a man leaves his parents, who give him life,
and is joined to his wife, and that one flesh – father, mother, and child – results
from the commingling of the two. The child is born from the union of their seed,
so the three are one flesh. Our relationship to Christ is the same; we become one
flesh with Him through communion, more truly one with Him than our children
are one with us, because this has been His plan from the beginning."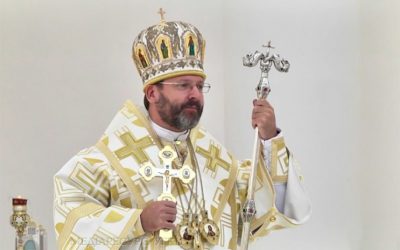 For if I preach the gospel, that gives me no ground for boasting. For necessity is laid upon me. Woe to me if I do not preach the gospel!  (1 Cor 9:16). Very Reverend and Reverend Fathers! Venerable Brothers and Sisters in religious and monastic life! Dear...
St. John Chrysostom
"Seek the things of God, and those of man will follow with great ease. If we regulate our households in this way, we will also be fit to oversee the Church, for indeed the household is a little Church. Therefore, it is possible for us to surpass all others by becoming good husbands and wives." (Homily XX on Ephesians)