Upcoming events taking place this fall across Alberta:
Woven: A Retreat for Teen Girls (13-18)
Sept 20-22, 2019
Girls aged 13-18 are invited to explore what it means to be a young woman living according to the Eastern Christian faith in the modern world. We will discuss self-identity, emotions, social media, relationships, and more! There will also be socializing, crafts, outdoor activities & fantastic food!
• Where? Camp Oselia (53230 Range Rd 53, Fallis, AB on Wabamun Lake)
• How much? Before Sept. 1 – $50, after Sept. 1 – $60. Remainder of cost will be subsidized.
• Ride? Yes! Call us and we can make arrangements 780-424-5496
• Other Questions? Call 780-424-5496
Register Here
For more information on Woven, click here.
---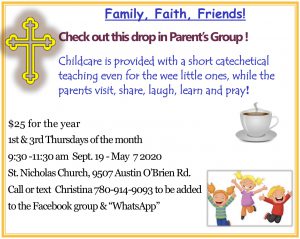 ---
Catechist Workshop
Oct 1, 2019, 5:30 – 9:00 pm.
WHO SHOULD ATTEND? All those who are working throughout the Edmonton Eparchy, teaching children or adults, or those who might like to begin teaching.
This will be an evening of professional development, spiritual growth and networking with other catechists.
Theme for the workshop:
– "Baptized and Sent: The Church of Christ on Mission in the World" is the theme chosen by Pope Francis for the Extraordinary Mission Month October 2019. We will look at ways of reinvigorating our own sense of responsibility for proclaiming the Gospel with new enthusiasm and passing that enthusiasm to others.
LOCATION: 9645-108 Ave, Edmonton
Those at a distance are welcome to join us online. Please contact us and we can set it up either by phone 780-424-5496 or email: [email protected]
Register by Sept. 27 at Eventbrite:
Register Here
COST: $10.00 – will be charged to your parish after your attendance at the workshop.
---
Crossing Over through Change and Transition
Friday Oct. 11th, 6:30pm – Saturday Oct 12th, 6:30pm

Register Here
---
Called to be Holy – Man on a Mission!
Fri, 1 Nov 2019, 5:30 PM – Sat, 2 Nov 2019, 4:30 PM
Register Here