By Jayne L. Buryn, Communications Coordinator, Ukrainian Catholic Eparchy of Edmonton
"For more than 50 years, Eva Tomiuk has been making pysanky — intricately decorated Ukrainian Easter eggs," according to a Martha Stewart Living television article.  "Eva learned the art form (which originated around A.D. 980) when she was just eleven years old, and today, her creations are treasured around the world." Her handmade pysanky treasures can be found in the homes of royalty, popes, mayors, television personalities and ordinary people.
On March 27, 2017, a victim of pancreatic cancer, Eva Tomiuk passed away at the age of 90, graciously taking her talent back to the One who gave it to her. 
A founding member, Eva was also a very active parishioner of St. Nicholas Ukrainian Catholic Church in Edmonton until her passing. Hers was a familiar face at services, as a choir member, at parish dinner preparations and other events, and numerous egg decorating and embroidery class presentations. From her I learned how to make the decorations for paska bread.
If any assistance was needed, Eva was always there with ready hands and reliable expertise.  At the 50th Anniversary Retro Tea celebration of the St. Nicholas Ukrainian Catholic Women's League of Canada, the Mistress of Ceremonies, Barbara Olynyk, showed off a number of 1950s and 1960s dresses and hats that Eva had preserved as museum pieces over the decades.    
"She … held many workshops in Edmonton schools, shopping malls and at the Muttart Conservatory," wrote Madeleine Cummings in her March 8, 2017 retrospective in the Edmonton Examiner. "She was a fixture at the Heritage Festival for 25 years. In 1976, the Edmonton Police Association commissioned her to create hundreds of pysanky for delegates at their convention."
Eva's workshops were recognized with an award at the 1986 Vancouver World Exposition on Transportation and Communication and, in 2012, her contribution to Alberta earned her a Queen Elizabeth Diamond Jubilee Medal. The Ukrainian community recognized Eva's immense contribution to the preservation of the Ukrainian culture with a Hetman Award in 2005.
Losses and Ironies
Throughout her life, Eva's faith and spirit were tested. She lost her mother as an 11-year-old child and was raised by her grandmother in Serny, Ukraine. Whether she simply wanted to pass on her beloved traditions or she recognized a budding talent, Baba insisted Eva learn how to decorate Easter eggs and embroider.
Ironically, and fortunately for the world, her grandmother's determination deposited Eva on a life-long path continually developing her talents and making her the "celebrated Ukrainian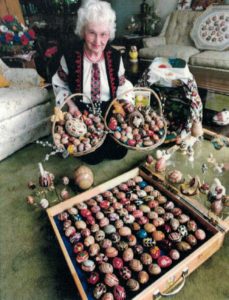 Canadian artist" referred to by Madeleine Cummings.
In a memorial card, her family notes that "she was a self-taught artist who was passionate about preserving the Ukrainian culture and nothing gave her more pleasure than a full class of eager students."
Family, friends and faith were also very important to Eva who "made our house into a loving home and she always gave unconditional love to all those dear to her heart."
While still in Ukraine, Eva suffered another major loss. Her husband died of leukemia when she was 18. With courage in her heart and faith in God's protection, she avoided the Russian invasion by escaping to Germany then, in 1948, to Winnipeg where her late husband's family resided.
Eva's talents were not limited to decorating Easter eggs. She created beautifully embroidered rushnyky (decorative towels) and clothing, made traditional Christmas tree decorations and numerous other imaginative creations using materials such as wheat and printed cloth. Many St. Nicholas parishioners have a least one example of her creativity displayed in their homes.
In March of this year, Eva's works were featured at the Alberta Council for the Ukrainian Arts (ACUA) Gallery & Artisan Boutique in Edmonton. With irony in the picture once again, Eva passed on during the time her intricate and varied work was on display.
"Martha Stewart fans might recall Eva's appearance on the Martha Stewart Living show in 1999," wrote Madeleine Cummings. "Tomiuk's daughter, Kathie Kinisky, dropped off some of her eggs for Stewart, who was in Calgary for a charity dinner. Steward loved the eggs so much she flew Tomiuk first class to Connecticut to record a Good Friday TV segment."
While there Eva met Stewart's mother, Martha Kostyra, who was also on the show and a chat blossomed into a friendship that lasted until Kostyra died in 2007.
 The Edmonton Ukrainian community and the world at large has lost a great talent, but she did have the opportunity to pass along her gifts and expertise to family members. We can be both proud and consider ourselves blessed that we have had with us for so many years her spirit, faith, warm and compassionate personality and her determination to use her skills and expertise for the good of others.
(To see Eva's appearance with Martha Stewart and instructions for making pysanky, see the two-part presentation at:
http://www.marthastewart.com/918620/ukrainian-easter-eggs-part-1
http://www.marthastewart.com/918625/ukrainian-easter-eggs-part-2)