By Jayne L. Buryn, Communications Coordinator, Ukrainian Catholic Eparchy of Edmonton
Archbishop Luigi Bonazzi, Apostolic Nuncio to Canada, recently visited Catholic institutions in Edmonton, including Saint Joseph's Seminary, Newman Theological College, Covenant (Catholic) Health, and Catholic Social Services. Prior to his visit, Archbishop Richard Smith had invited Most Reverend Bishop David Motiuk, Ukrainian Catholic Eparchy of Edmonton, to also show the Nuncio something of the Ukrainian Catholic Eparchy of Edmonton. In response, on March 3, 2017, Bishop David welcomed the Nuncio to St. George's Ukrainian Catholic Church in Edmonton.
"An hour was set aside for the tour, but I thought they might stay for 15 minutes or so," said Bishop David."
However, Apostolic Nuncio, Archbishops and Chancellor were so taken by the architecture, iconography and work of St. George's Parish that they spent the entire allotted time there.
"I could see by their expressions and questions, that the visitors were fascinated by this 'true gem." They were very appreciative of the opportunity to observe such a beautiful facility and to learn more about Eastern Church traditions.
This visit was the Nuncio's first to Edmonton to see Catholic institutions here, although he has been to Alberta to oversee episcopal ordinations. He made an earlier visit to Calgary for the ordination of Bishop William Terrence McGrattan as eighth Bishop of the Diocese of Calgary following Bishop Fred Henry's resignation.
Promoting Understanding between East and West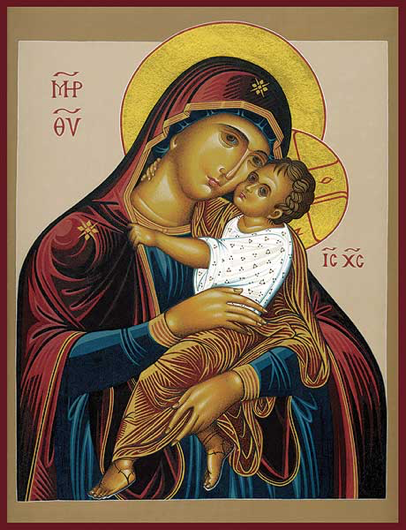 "This visit was a good opportunity for us to showcase our spirituality, iconography and theology," said Bishop David. "It's also important for us to show how we are caring for newcomers from Ukraine, especially in relation to the ongoing war in Eastern Ukraine. St. George's Pastoral Council is working diligently to assist with mitigating the consequences of these tragic events and that work needs to be recognized."
At the conclusion of the tour, Bishop David gifted the Nuncio with a copy of the Tenderness icon, similar to the one shown.
What is an Apostolic Nuncio?
An Apostolic Nuncio is the personal representative of the Pope in a particular part of the Church and a specific country. He facilitates unity between the Pope and the Church globally, including
keeping the Apostolic See informed about matters relating to particular Churches;

assisting relationship-building of the Bishop's Conference and between the Apostolic See and other ecclesial communities and religions;

fostering positive efforts of, and agreements between, peoples of different nations and between Church and State;

assisting with the appointment of bishops, including those of Eastern Churches;

providing advice or action on behalf of Bishops without interfering in their lawful power;

while safeguarding the mission of the Church and of the Apostolic See.
Archbishop Luigi Bonazzi
Sixty-nine-year-old H.E. Msgr. Bonazzi was ordained a priest on June 30, 1973 for the diocese of Bergamo, Italy. He has a Salesian Pontifical University (Rome) Doctorate in Educational Sciences. He also holds a Licence in Theology and in Canon Law from Rome's Lateran Pontifical University. Most Rev. Luigi Bonazzi speaks Italian, English, French, and Spanish.
The Nuncio's diplomatic service which began in March of 1980, has taken him to Cameroon, Trinidad and Tobago, Malta, Mozambique, Spain, the U.S., Italy and Canada.  He was appointed archbishop in August of 1999.
Since June of 1999, Monsignor Bonazzi has been Apostolic Nuncio to Haiti, Cuba, Lithuania, Estonia, Latvia, and finally Canada, as of December 2013. He has been here since February 2014. Msgr. Bonazzi resides at the Apostolic Nunciature in Ottawa.
For more information visit www.nuntiatura.ca.